We'd Love to Hear From You!
Whether your event is big or small, next week, or even next year, use the form below to contact us and we'd be happy to answer any questions you may have. Alternatively, feel free to give us a call or send us an email at info@exdoevents.com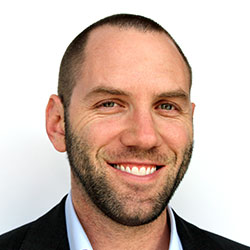 A fifth-generation Denverite, Andrew has over 20 years' experience in hospitality, entertainment and event production. Andrew's ancestors arrived in Denver's historic Curtis Park neighborhood in 1870 and he has continued the family tradition by running and developing businesses in the Five Points neighborhood. Currently, Andrew is a managing partner in the EXDO Event Center and Tracks nightclub, as well as the EXDO Management property group which oversees commercial property investment and management throughout Denver.
Prior to returning to Denver in 2009, Andrew spent 10 years in Los Angeles as an animation and new media producer and nationally syndicated cartoonist developing content for global entertainment companies including Fox Sports, Warner Bros. and Nickelodeon.
Andrew resides in the River North (RiNo) Art District and he has served as co-chairperson of the RiNo Art District board since 2012. Andrew also serves on the board of the RiNo Business Improvement District, Downtown Denver Partnership, Inc., the Anti-Defamation League Rocky Mountain Region and on the Ambassador Board for Project C.U.R.E.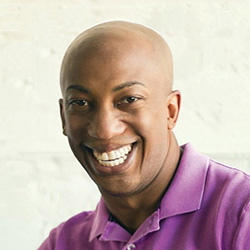 DeMarcio Slaughter
General Manager
With over 20 years of Hospitality experience in premier hotels, fine dining restaurants, and executive level Event planning – DeMarcio is the definition of professionalism. Having spent the last decade of his career leading the Training & Development department for Denver's leading hotel management company, DeMarcio has presented to, and educated tens of thousands in the ways of superior customer service, and corporate leadership. He brings to EXDO Event Center the keen experience that comes from years of high level customer service implementation, refined etiquette, and management experience. A strong community activist, DeMarcio sits on the Board of Directors for the GLBT Community Center of Colorado, as well as being the Event Coordinator & Emcee for Denver PRIDEFest; the latter being a responsibility he has held for 15 years.
He has enjoyed the opportunity to work with, and host events for such notables as Miss Diana Ross, Rev. Billy Graham, Lauryn Hill, Bette Midler, Snoop Dogg, Dave Matthews, Cher, President Gerald Ford, Tina Turner, Steven Tyler, Martha Stewart, and Dr. Maya Angelou.
As well as being a kid-at-heart, DeMarcio is a Certified Fitness Coach & Nutritionist, who enjoys collecting toys from the 1980s, and the music of Motown.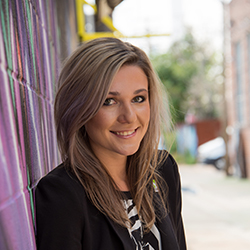 Lakota Livingston
Event Sales & Experience Manager
There's no event too big or small for Lakota Livingston. With extensive experience in event management, planning and development, you're sure to have an expert on your side. Lakota received a Bachelor of Business in Hospitality, Tourism and Events from Metropolitan State University in Denver, Colorado. Her eye for creativity and design will bring a unique perspective to any soiree. Her passion for making ideas come to life will exceed your expectations. Having worked with hundreds of corporate companies to ensure a successful and stress-free event from start to finish, her experience is invaluable.
Practically a native, she has immersed herself in the Rocky Mountain lifestyle and can often be found outdoors, enjoying Colorado.
Danita Duran
Office Support Manager
Danita Duran joined EXDO in October of 2016, adding her finance experience and office administration skills to the team. With keen wit and a no-nonsense approach, Danita ensures the office runs smoothly, and all events are delivered to the utmost expectation of the client. Her sense of humor, along with her professionalism, are a welcome constant in the EXDO office. Whether it be a site tour, a VIP set up, or Social Media blasts, Danita is the go-to gal…she will get the job done, and get it done right!
A Colorado native, Danita is passionate about the growth of local artists, musicians, DJs and Denver culture.